The only CEO with a mohawk!
Hi there! I am Chris J Reed, the Only CEO With A Mohawk! I am also the most recommended LinkedIn marketing entrepreneur on LinkedIn with over 1000 LinkedIn recommendations.
I am a four times No.1 International Bestselling Author with my books "Personal Branding Mastery For Entrepreneurs" and "LinkedIn Mastery for Entrepreneurs", the No.1 book about LinkedIn on Amazon, "Social Selling Mastery For Entrepreneurs" and out now: How to become a LinkedIn rockstar!
I am also the most controversial LinkedIn marketing entrepreneur and CEO in Singapore. Appearing on the front page of local newspapers for the wrong and right reasons, saying what I am thinking and engaging happily on LinkedIn and in the marketing and business press, creating a classic "marmite" personal brand. Mumbrella called me "the most colorful marketing founder".
I have been named an Official LinkedIn Power Profile 2012-2018, I have one of the world's most viewed LinkedIn profiles with 55,000 followers and I won Social Media Entrepreneur of the Year award by CMO Asia/World Brand Congress and Asia's Most Influential Digital Media Professional.
I am a serial, global entrepreneur having created Black Marketing – Enabling LinkedIn For You, The Dark Art of Marketing – Personal Branding For Entrepreneurs, Mohawk Marketing – TripAdvisor Engagement For You, Chris J Reed Mastery – Masterclasses that Engage, Delight, Educate and Entertain and Spark: LinkedIn + Tinder = Match.
My company – Black Marketing – has just won Asia's Best Brand Award and the Social Media Marketing Agency of the Year Award by Singapore Business Review.
I am also a vastly experienced LinkedIn and Personal Branding Masterclass Leader, event speaker, emcee & chairperson. I lecture at The University of Hong Kong Business School, The Chinese University of Hong Kong Business School and National University of Singapore Business School to MBA students.
I also mentor for the CMO Council/Singapore Management University Business School and Chair of the Marketing Committee of the Singapore International Chamber of Commerce.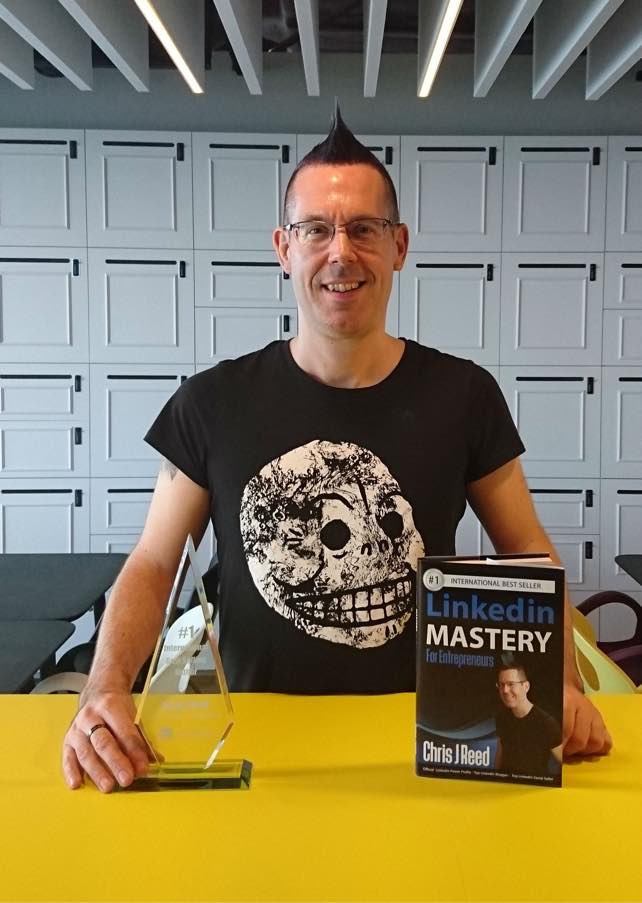 Join Us with Passion and Purpose
Here at Black Marketing we employ people with passion and purpose. What is our purpose? Very simply it's enabling entrepreneurs around the world to achieve their business objectives through LinkedIn.
We do that in a mixture of ways, creating a LinkedIn marketing strategy that could include taking over and managing their profiles, optimising them so that people can find them when they need their service, creating a content marketing strategy which includes, writing short posts, thought leadership articles, creating and posting videos, business photos, curated content and infographics right through to social selling through Sales Navigator.
Through my Chris J Reed Mastery Masterclasses, we empower everyone from c-suite executives to sales conferences on how they can also achieve their objectives through LinkedIn.
Our Dark Art brand enables by creating Personal PR strategies, non-LinkedIn activities such as getting exposure on TV, radio, newspapers, on-line media and magazine plus keynote speaking, bestselling books, YouTube and recording it all and amplifying it before, during and after on LinkedIn.
Join our purpose with your passion and help us enable entrepreneurs across the world to achieve their professional objectives on LinkedIn.